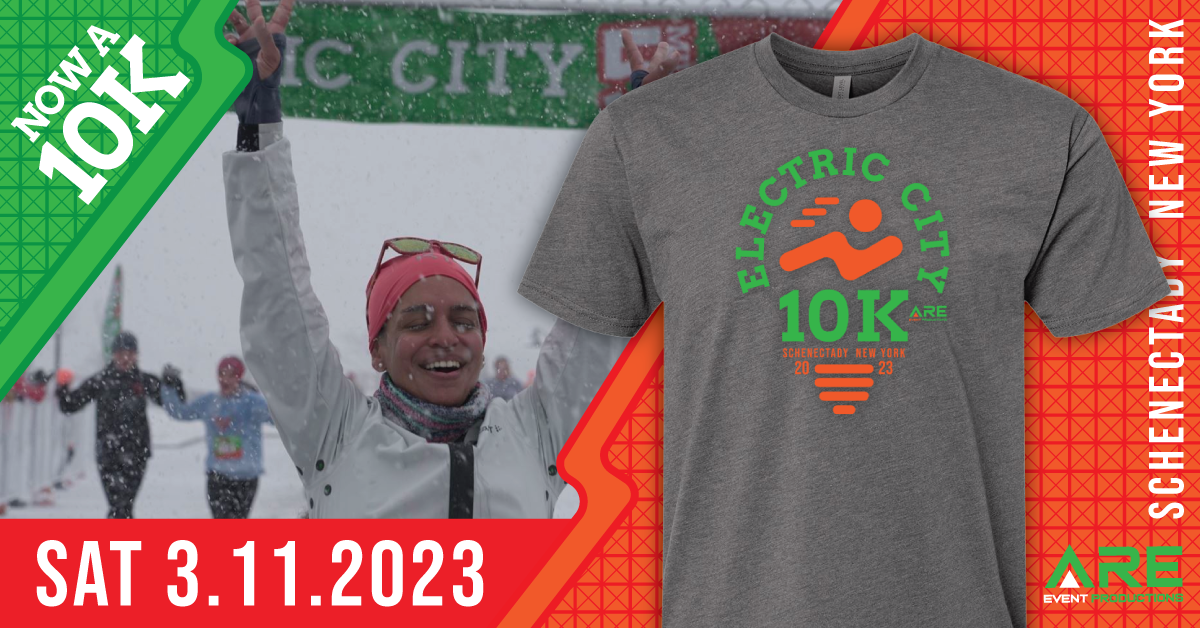 WHAT. A. DAY.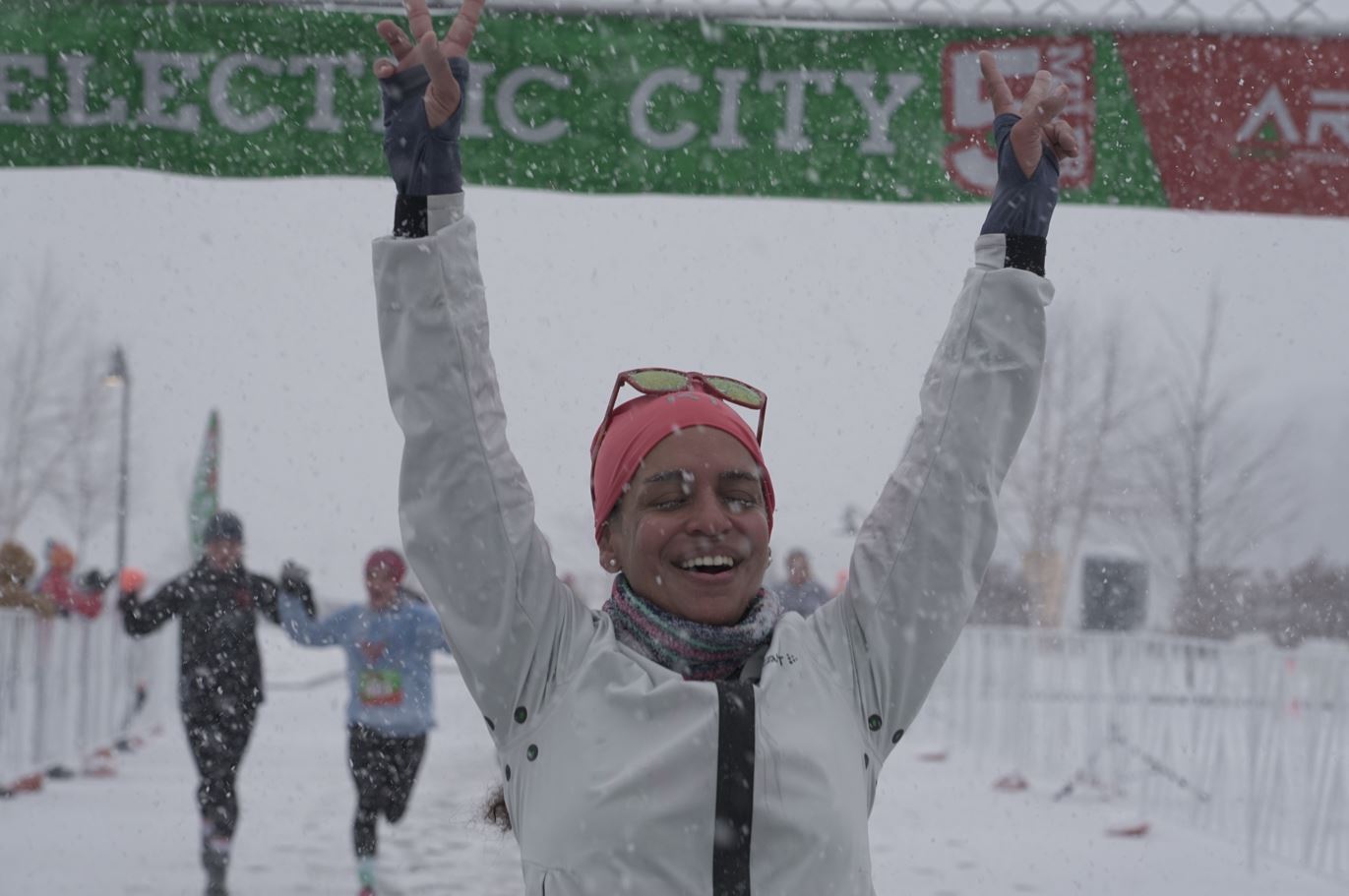 An epic morning matched by epic performances!
Photos can now be found IN your results.
View the results and click on your name to see them.
---
Shirts are Still Available!
Want to commemorate having been part of this most unique running of an event? We have limited quantities of the 2022 shirt available. $20. Click the shirt above to go to the online store. They are immediately available for pick-up from the AREEP Office (21A Railroad Ave, 12205) or you can choose to have it shipped to you ($5).
---
AS POSTED IN THE DAYS PRECEDING THE RACE:
Surely the weather is a concern of ours with respect to participant transportation and course safety.
To that end, while we do realize the lost experience for those who choose not to attend because of the conditions, we do not want participants to attend if it is unsafe for them to do so. (Do note that some participants live at the venue or within walking distance from the Stockade.) We are adding a virtual option and will allow you to complete your run by Sun, 3/20 to appear in the virtual results. An email next week will enable you to submit your results.
Also, to be clear, and per the posted policy and what appears in the Participant Handbook, our alternative is (/was) to cancel the event. (Per the event registration policy, there are no refunds nor deferrals, etc., even if it were canceled.)
COVID-19 IMPACT
The event is being held in compliance with CDC and NYS Guidelines and Requirements that allow for businesses to have customers visit their stores and establishments.
Participation requires that you are not known to have, nor have been exposed to COVID-19 in the 14 days preceding race day. In addition, you are not to attend if you have been experiencing any of the symptoms of COVID-19, as detailed here.
If you are legally permitted in New York State in a public setting on March 13, you are permitted to participate in the event.
Masks are required to be in your possession at all times at the event. They are to be used to fully cover your nose and mouth when within 6' of others, as well as at all times at packet pick-up, the restroom, and the start line. It is highly recommended that you properly use the mask at all times when not running, even if exceeding the 6' CDC guideline.
The start will be highly staggered, with just a few runners starting every 10 seconds. Full details will be in the event handbook made available in early March.
Learn more and see video of how we are managing our events.
---
ABOUT
The 3rd Annual Electric City 10K* is the first major Capital District road race of the 2023 road race season, and we invite you to join us as we welcome in the spring with an energetic and fun atmosphere! It's staged from Mohawk Harbor, which is truly an incredible venue and serves as a phenomenal location for you to enjoy a racing experience.
*Previously held as a 5M, the race has been changed to a 10K for 2023 due to the closure of the Sunnyside Rd Bridge and with a 10K now being the most logistically viable option.
WHEN
Saturday, March 11, 2023
8:00AM: Packet Pick-up* Begins (at the race venue)
9:30AM: Race Start
*PPU will only be available ON race day.
WHERE
Mohawk Harbor (By the Amphitheater)
221 Harborside Dr
Schenectady, NY 12308
ENTRY FEE SCHEDULE
ARE Members save $5
here
.
| | |
| --- | --- |
| $30 | through 12/31 |
| $35 | Jan and Feb |
| $40 | in March until 3/10 |
| $50 | Race Day |
There is race day registration.
Registration fees are non-refundable unless you purchase registration insurance.
There are no transfers nor deferrals.
REGISTRATION INSURANCE
Your registration is NON-REFUNDABLE unless you choose this optional registration insurance (per the deadline below).
For $12, you can insure your registration which provides for a no questions asked refund of your fee paid (not including the $12 nor the processing fee) that simply requires you email us at events@areep.com prior to the deadline of 11:59:59PM ET on Wed, 3/8. It will be refunded without having to provide a reason. This insurance does not apply for requests made after 12AM ET on Thur, 3/9. After that time, no refunds will be processed.
Registration Insurance can ONLY be purchased at the time of initially registering for the event.
AMENITIES
A festive atmosphere! Enjoy the upbeat music and announcing as we return to the roads! There's also a timing split at halfway to provide live tracking, a delicious post run meal, and an all-around awesome experience! You even get your name printed on your bib (if you register by February 27). There is also an optional event shirt.
AWARDS
The Top 3 Male and Female finishers will receive complimentary entry to any other AREEP owned event within the next 12 months. There are no other awards, although the results will show placings within 5 year divisions. There are no finisher medals.
PETS & STROLLERS
The venue forbids pets from being on the property. (Service animals are permitted.) Strollers are not permitted in the race, itself, but they are allowed on the property.
EVENT MEDIA
Head to the Results section to also see prior year photos and video.
VOLUNTEER
We need help to make this race happen. Volunteers are primarily needed as course marshals, as well as helping with general staging. No prior experience is necessary.