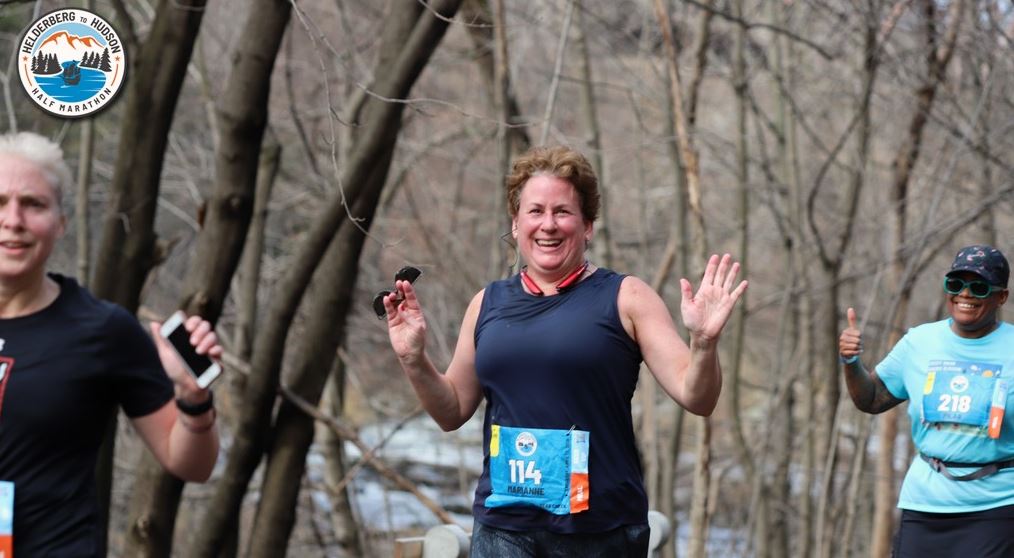 PARTICIPANT HANDBOOK
- PLEASE READ THIS FULLY -
The 2023 Participant Handbook is your best resource in this final lead-up to race day.
Spectator's Guide
ABOUT
The Helderberg to Hudson Half Marathon is a full-scale "major event" in the Capital of New York. It is a point-to-point downhill course on a very fast surface. It debuted in 2019 with over 2,500 registrants and is now faster than ever, taking advantage of recent updates to the final 2 miles of the course to reduce the number of turns and the paving of a brand new surface.
See photos and video here.

WHEN
Saturday, April 13, 2024
8:30AM: Race Start
PACKET PICK-UP
PPU will be offered on Thur (4/11), Fri (4/12), and race day (Sat, 4/13). Please take note of the LOCATIONS indicated below.
Please make every effort to get your packet BEFORE race day. Yes, someone else can pick it up.
*Remember, you can NOT park at the Start Line.
If picking up your bib on race day, please note that ONLY your bib will be available at the start line. If you ordered merchandise (or need to pick up anything else), you can get those items AFTER you finish.
WHERE
THE START*
Wallace (New Scotland) Town Park
148 Swift Rd
Slingerlands, NY 12159
*There is
no
parking at the start. Please
refer here
for complete details.
THE FINISH
Jennings Landing (Amphitheater)
1 Quay St
Albany, NY 12207
ENTRY FEE SCHEDULE
ARE Members save $5
here
.
| | |
| --- | --- |
| $65 | through 12/31 |
| $75 | in January |
| $85 | in February |
| $90 | in March |
| $99 | in April |
Reg is guaranteed to be open through 3/31.
AMENITIES
In addition to a truly awesome experience, there's a lot included!
Live tracking every 5K
A free bus ride to the start line from the finish
A delicious post run meal
1 free beer at the finish
Live Music
Free race photos
Your name printed on your bib
Gear check (we drive your stuff back to the finish)
A sweet finisher's medal
Please note that a merchandise item is not included with the base entry fee.
TRAINING PLANS
Coming in early 2024!
---
PARKING/START TRANSPORTATION
The race begins at Wallace Town Park in Voorheesville - a town with a population smaller than the anticipated size of this event.
There is NO PARKING at the start line, nor within 1 mile of it.
All participants should park by the finish at the ParkAlbany Riverfront Garage and use the free bus service.
Buses will be provided from there (State St/Broadway) to the start, running continuously from 6AM until 7:15AM.
PLEASE NOTE:
There is no bus service after 7:15AM.
There is no bus service after the race.
There is no parking at the start nor within 1 mile of it.
You are welcome to get dropped off at or park at either Voorheesville Elementary School or St. Matthews Church. (Both are by the 1 mile mark) and walk to the start. (This requires you to arrange your own transport back to your car post-race.)
There is also the discouraged but allowed option to get dropped off near the start line. The exact details of this are TBD based upon the total number of people desiring this.
The registration page asks for your expected method of getting to the start line.
---
PETS & STROLLERS
Pets and strollers are not permitted on the race course.
EVENT MEDIA
Head to the Results section to also see photos and video from previous years.
VOLUNTEER
We need help to make this race happen. Volunteers are primarily needed as course marshals, as well as helping with general staging. No prior experience is necessary.
VIRTUAL PARTICIPANT OPTION
For those unable to attend, you do have the option (after registering as an in-person registrant), to switch to be a virtual participant. This is done via your Registrant Portal.
Virtual participants have from Fri, 4/12 through Sun, 4/21 to complete their run.
There is no restriction regarding the route or surface you choose.
Submit your results via your Registrant Portal page linked in your Confirmation Email. (You will also receive an email race week with this link, or you can look it up here.)
GETTING YOUR ITEMS
Virtual participants may pick up their item(s) at the in-person packet pick-up. If unable to attend, those who switch to virtual by March 26, will have their items (ie. medal and if applicable, their optionally ordered merchandise) shipped to them at no fee. Those who switch on March 27 or after will only have their items shipped if they pay the $10 shipping fee, for which they will receive an email in late April with the option to do so.
---
Registration Policies
REGISTRATION INSURANCE
For an additional $16, which can only be paid at the moment you create your registration, you can insure your registration. This provides for a NO QUESTIONS ASKED refund of your entry with a deadline of Wed, 4/10 at 11:59:59PM ET. The request must be made as an email to director@helderbergtohudsonhalf.com prior to that time. After 4/10 this insurance expires and refunds will not be granted.
REFUND POLICY
There are no refunds. The only exception is if you purchase registration insurance (and then you are still subject to the deadline as explained above). If you do NOT purchase registration insurance, your entry is non-refundable. If you still desire some method to recoup some of your entry and you did not purchase registration insurance, you can try to find someone to transfer your entry to, as described below.
REGISTRATION TRANSFERS
Note: Transfers do not count towards referrals.
Transfers are permitted through March 31. A transfer is when you officially give your registration to someone else by providing them with a code generated by ZippyReg from your Registrant Portal, linked in your confirmation email. (Get help here.)
By clicking a button, you permanently give-up your registration, generating a code that you can give to someone else to take that voided registration. The person replacing you then registers with that code, paying only the $15 transfer fee. If you desire to be reimbursed for any portion of your entry fee, this is arranged between you and the other person - it is fully independent of ZippyReg.com (our registration provider).
DEFERRALS
There are no deferrals. Consider either purchasing registration insurance or transferring your entry to someone else (described above) if you otherwise are unable to attend.
---
Results & Awards
Timing Information
ARE Event Productions (the organization also directing the event) will be timing the race, providing live tracking (every 5K) & results. The results will include both GUN and NET time.
Awards Information
OVERALL - GUN TIME Basis - Cash Prizes & Bonuses
The Top 3 Male and Female finishers
The Top 3 MASTERS (Age 40+) Male and Female finishers (If within the Top 3 Overall, wins BOTH cash prizes.)
Please be present at the main stage at 10:30am for the awards ceremony.
Prize Money and Bonus Amounts will be announced in early 2024.
If you anticipate potentially being a prize money winner, please refer to the
Elite Entry & Prize Money Information
section.
AGE GROUPS
All overall (cash) winners are included in their age groups. (There IS 'duplication'). As such, the results will accurately show everyone's placing in their division.
The Top 3 Male and Female finishers in each age group (based on NET time) will receive an award. Categories: 14-U, 15-19, 20-24, 25-29, 30-34, 35-39, 40-44, 45-49, 50-54, 55-59, 60-64, 65-69, 70-74, 75-79, 80+
Medals
All half marathon finishers receive a medal at the finish line.
---
Event Store
Will be available early winter.